Recover Deleted Photos by Dumpster
2.28.337
Recycle Bin App – Easily Recover Deleted Photos
Deleted an important file or photo by accident? Want to recover it as soon as possible? Well, with this recycle bin app, you can do that with a tap of a button. Recover Deleted Photos by Dumpster is a cool app that enables you to restore images, videos, and files that you had accidentally deleted in the recent past. It keeps track of all the data that you delete from your phone and then lets you retrieve it whenever you need it. Thus, it allows you to make mistakes and then rectify them. Any photo that you had deleted from your phone can be easily recovered and restored to its original folder using this app. Moreover, you wouldn't even need to root your device or have an internet connection to do that.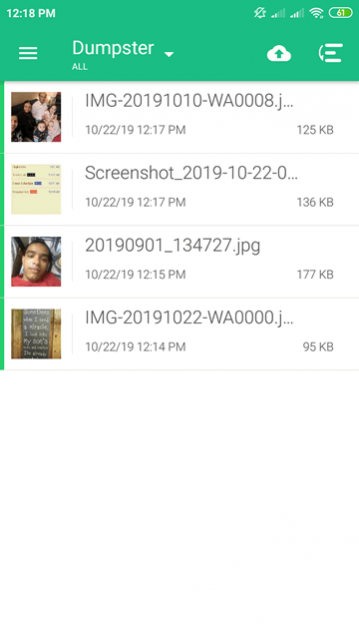 Recover Deleted Photos by Dumpster has an intuitive interface that goes along nicely with its elegant design and layout. The combination of these features makes using this recycle bin app an easier proposition for everyone. To see if the app works, you need to delete any photo, video or file from your phone' storage. The file you delete will be instantly stored in this app. You will the file appear on the home screen. A click on the file will show you a preview of it along with three options. The first one is 'Restore', the second one is 'Delete', and the last one is 'Share'. You can click 'Restore' to restore the file to its original location or click 'Delete' to permanently delete it from your phone.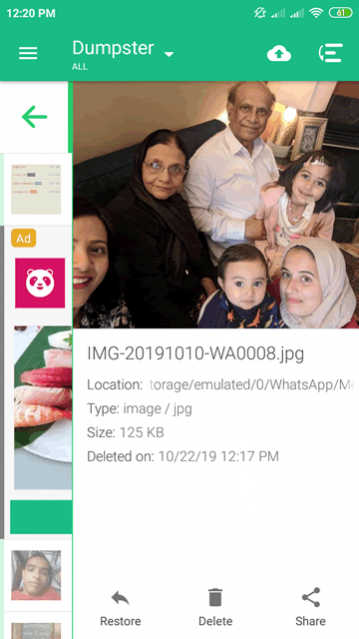 This recycle bin app allows you to sort the deleted data it stores. You will find these sorting options in the menu whose button is located at the top-right corner of the screen. There is also the option available to view a particular type of deleted data as well. You just have to pick the data type from the drop-down menu that appears when clicking the button located under the 'Dumpster' tab. Recover Deleted Photos by Dumpster offers you the chance to recover data that you had deleted a while ago. It has a 'Deep Scan Recovery' feature which lets you scan your phone for deleted content. You can recover old photos, videos, and files that you had deleted a month ago using this feature.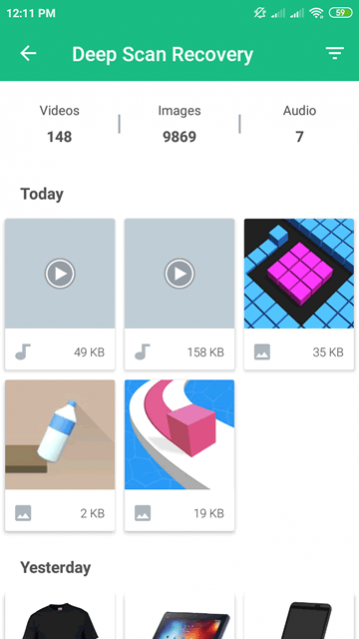 Recover Deleted Photos by Dumpster keeps hold of deleted data for as long as you want. If you don't want this recycle bin app to keep the deleted photos for longer then you can enable the auto-clean option. This option allows you to select the number of days for which the deleted photos are kept by the app. After this time, the photos are permanently deleted from the phone without requiring your permission. This app supports 14 different languages so people of various nationalities can use it with ease. It also offers customizable themes and designs and cloud storage. However, those features are only available for the premium users.
Features:
Intuitive user interface
Elegant design and layout
Stores all deleted data
Recovers deleted files easily
Files restored to their respective folders
Deep Scan Recovery for locating recently deleted photos
Auto-clean feature for automatically deleting deleted data
Doesn't need root or an internet connection
Supports 14 different languages
Customizable themes on offer
Cloud storage available
Conclusion:
Recover Deleted Photos by Dumpster is an app that is marketed towards people who have the tendency to delete important files by accident. It keeps hold of any data that has been accidentally deleted from their phones and allows them to recover it with a touch of a button. It is a recycle bin app worth having on your phone.
---
Add a review
Tell us your experience with
Recover Deleted Photos by Dumpster
2.28.337
RELATED PROGRAMS
Our Recommendations
---
---
---
---